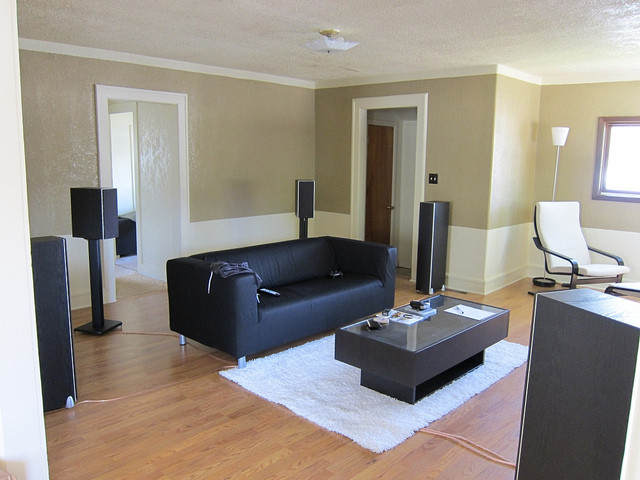 Even visible speakers can be incorporated into your home decor.
Home theaters are becoming more popular as home theater technology gets better and better. Things like 3D televisions, 7.1 sound systems, and crisp video playback…a well-built home theater can be like having a private screening room. That said, though, there are things you need and things you don't for your home theater, and what they are might surprise you.
Location, Location, Location
The first and most important step is deciding where everything will go. For example, placing your television behind a window will both block the sun in a room and draw undue attention to it, making it hard to watch and distracting. Putting it on a wall opposite the windows may make it difficult to watch during the day. Before buying and installing, do some measuring and thinking; properly placing an integrating your home theater into your home will mean fewer arguments and a happier home.
A Well-Built Amplifier With the Proper Wattage
The foundation of every home theater system is the amplifier. To understand why, you need to understand how speakers work. Essentially, all speakers really do is push air at certain frequencies that the electricity flowing in tells them to push at; but, the more air you want to push, and the more energetic the frequencies, the harder it is to push. An amplifier gives your speakers just the right amount of power; overpowering might trash the speakers, and underpowering can result in distortion. Pair your amp with your speakers carefully, and your theater will sound that much better.
Hiding Places
It's very rare that you want your home theater to dominate the room, but if you put a gigantic television and thumping sound system into your living room, it'll draw attention even if you don't turn it on. It doesn't help that many systems are designed to look cool, not blend into your home décor. Look into touches like home automation that tucks screens and speakers away, or building a cabinet into the wall that lets you keep your living room as a multipurpose space.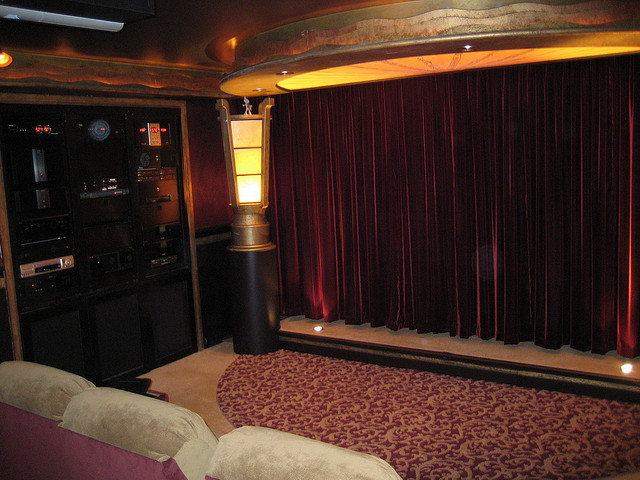 This might be a bit of overkill.

Proper Speaker Placement
Getting perfect sound requires placing your speakers properly. There's a specific place in each room where the speakers and the acoustics align to create a perfect listening spot. It may not always be ideal to create this, but where possible, you should try to do so. Beyond that, think about how the space will be used; will you and your friends be watching and discussing TV shows and sports games? Will you be sitting in appreciative silence watching a movie? Place your speakers for the best effect to get the most out of your system.
Hidden Cables
Unfortunately, making all home theater technology wireless is a work in progress; there aren't really any solutions at the moment that rival their wired cousins. That means you'll need to choose wires and cables carefully, and also look for solutions to hide them. One popular method of organizing and tucking cables away is to thread them through the walls; that way, you have fully wired speakers, but also flawless home décor. If that's not an option, look for cables that can be painted over, or consider covering them with electrical cord covers; there are quite a few available at your local hardware store.
Whichever methods you choose, remember that you can have a home theater in your home without it dominating, and a well-designed theater makes a home that much better. Happy shopping!

Photo credits: Viet Hoang,