5 Interior Design Tips for Tight Budgets

Hiring a designer for a one-time consultation helps avoid costly mistakes.
Glossy magazine pages brimming with the latest interior design masterpieces are both dreamy and depressing when you're on a budget. Designing a comfortable, well-appointed home doesn't require a wealthy benefactor, but it just takes a few tricks and a careful eye.
Here are 5 tips for working within a budget to create a living space that you're happy to come home to.
Create a Sample Board to Avoid Mistakes
Something that seems great in your head might simply look weird in your living room, but a sample board helps you picture it clearer and avoid expensive mistakes. 
Take inspirational clippings from magazines and tack them to black (not white) poster board. Add swatches of fabric, paint chips, carpet and anything else until you get the right look.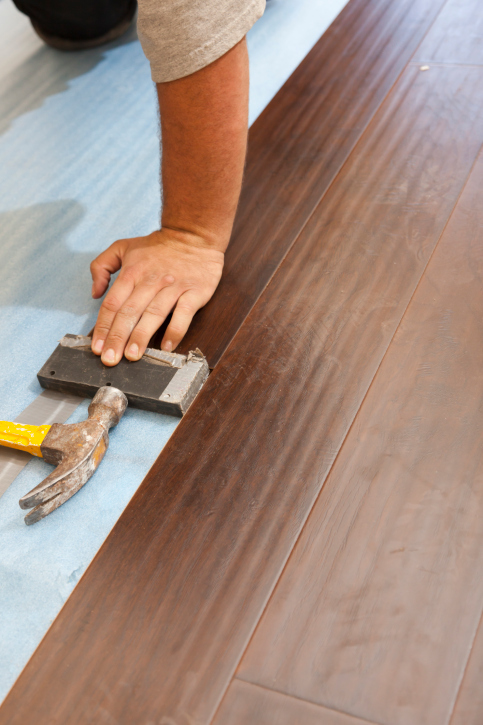 Laminate flooring is a DIY job and it covers up ugly, old vinyl. 
Paint Floors Instead of Refinishing
Worn wood floors degrade the look of some rooms, although they can work to your advantage in a rustic or cottage setting. If the expense and labor of refinishing wood floors finds you thinking about carpet, rethink and consider paint. 
Painted wood floors are classic, easy to clean and stand up to heavy traffic. Apply bonding primer first, then several coats of floor paint. Seal the floor with urethane for a long-wearing finish.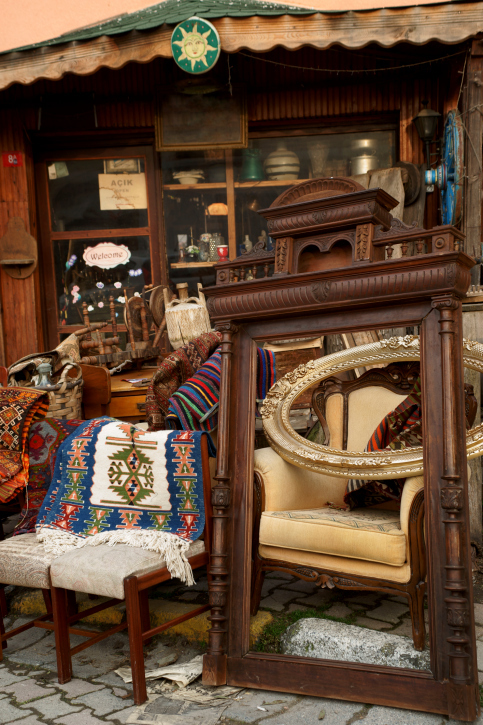 Thrift stores turn up the most unexpected treasures, and older pieces are usually made well. 
Shop Estate Sales and Thrift Stores
High-quality furnishings usually come with equally high price tags, but you'll replace a cheap sofa a lot sooner than a good one. 
The best finds on solid, well-made furnishings are at estate sales, thrift stores and even flea markets. Learn to look past quirky or outdated upholstery to appreciate the overall design and construction. Upholstery is replaceable, and you can learn to do that at home or hire it out.
Solid wood furnishings with a scratches and wear are also worth bringing home. Refinishing wood is a simple, although messy, job. With some sandpaper, stain and sealer or paint you can make a sturdy old dresser look stunning.
Sew your Own Draperies
As with furniture, cheap draperies won't do anything to boost the look of your home. Instead of buying pre-made, inexpensive drapes, bring out the sewing machine and make your own. 
Upholstery fabric sold by the yard lets you choose from a wide range of colors, patterns and fabrics. Simple, elegant drapes are nothing more than rectangles of fabric with a muslin liner sewn into the back side. With drapery clips, you don't even need a casing across the top. Snap the clips across the top edge of the drapes and slide the clips onto the rod. 
Filling in the Gaps
If the budget is almost gone but the room still looks sparse, it's time to bring in some extras. 
Plants add life to any room, and the bigger the better. Green, growing things placed anywhere you have a vacancy makes the space feel fuller without the overcrowded sensation of too much furniture.
A few oversized, square pillows do more to upgrade a simple sofa than numerous little decorative cushions.
Mirrors become instant focal points reflecting light and drawing attention with interesting frames. Instead of buying a mirror, find a large picture frame at a thrift store or flea market and have a mirror cut to fit.
If the room still looks wrong, take a photograph. When something looks off but you can't put your finger on it, seeing the space on a computer monitor lets you step back more objectively and figure out the problem.
A tight decor budget doesn't mean you're relegated to discount stores and cheap imitations. Being thrifty and clever make your home look like no one else's, and you'll have money left over for a great bottle of wine.